Prices & Availability
Sun Apartments incorporate 8 x 2 bedroom luxury maisonettes nestled among the snow-gums at a quiet location in the Mt Hotham Alpine Village. 

Each unit features a king master bedroom with ensuite and a second bedroom with 4 single beds (2 bunks).  A Queen sized fold-out bed in the lounge will take the total accommodation to a maximum of 8 persons.  Each Hotham Sun Apartment also has a second separate bathroom and separate laundry with toilet downstairs. 

Other features include walk-in drying room, dishwasher, microwave & satellite Flat Screen TV with DVD player.  Hotham Sun apartments have FREE high speed wireless internet connection.

We are also pleased to offer substantial discounts on ski & snowboard hire that is paid in conjunction with your accommodation package.  Download rental form.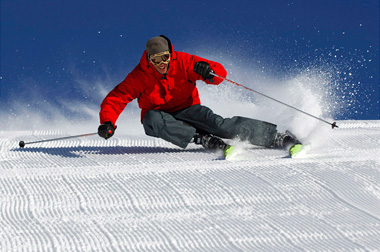 Skiing Twilight Zone
Sun Apartments – Hotham
We have three price structures for the 2020 season as follows:-
Low season:  5 - 18 June & 6 Sept - 3 Oct, 2020
Value Season:  19 - 27 June & 28 Aug - 5 Sept, 2020
Peak Season:  28th June - 27th Aug, 2020.
Accommodation Rates:
Your tariff is automatically calculated on our booking page depending on your selected dates, number of guests and the duration of your stay. Approximate tariffs are as follows:-
Period
2 Nts
3 Nts
4 Nts
5 Nts
6 Nts
7 Nts
2 Nts
3 Nts
4 Nts
5 Nts
6 Nts
7 Nts
Low 
$1320
$1623
$1980
$2244
$2653
$2957
Value
$1510
$1857
$2265
$2567
$3035
$3382
Peak
$1870
$2300
$2805
$3179
$3759
$4189
Card Pmnt
Surcharge Applies